Statistics
Population
11m
Internet penetration
85%
Belgium is a small media market, further fragmented by language. It effectively has two distinct publishing sectors for the French and Flemish speaking populations, which account respectively for 33% and 57% of the national population. 1
Top Brands % Weekly Usage (TV, Radio and Print: Flemish Speaking)
| | Weekly use | Main source |
| --- | --- | --- |
| VRT News | 70% | 42% |
| VTM news | 41% | 19% |
| Het Laatste Nieuws | 28% | 11% |
| Het Nieuwsblad | 23% | 6% |
| Qmusic news | 17% | 4% |
| Joe FM news | 12% | 4% |
| Metro | 10% | 2% |
| Nostalgie news | 10% | 2% |
Top Brands % Weekly Usage (Online: Flemish speaking)
| | Weekly use | Main source |
| --- | --- | --- |
| Het Laatste Nieuws online | 60% | 36% |
| Het Nieuwsblad online | 43% | 16% |
| VTM News online | 30% | 9% |
| De Redactie | 29% | 8% |
| De Standaard online | 21% | 5% |
| De Morgen online | 17% | 4% |
| Het Belang van Limburg online | 13% | 6% |
| Knack.be (incl. trends.knack.be) | 10% | 1% |
Top Brands % Weekly Usage (TV, Radio and Print: French Speaking)
| | Weekly use | Main source |
| --- | --- | --- |
| RTBF News | 68% | 31% |
| RTL News | 60% | 25% |
| TF1 news | 36% | 5% |
| France Television news | 20% | 2% |
| Radio Contact news | 16% | 4% |
| Regional or local newspaper | 15% | 3% |
| L'Avenir | 14% | 2% |
| Le Soir | 14% | 2% |
Top Brands % Weekly Usage (Online: French Speaking)
| | Weekly use | Main source |
| --- | --- | --- |
| RTL news online | 47% | 18% |
| RTBF news online | 40% | 9% |
| L'Avenir online | 31% | 11% |
| La Dernière Heure online | 26% | 8% |
| Le Soir | 26% | 7% |
| 7sur7 | 26% | 10% |
| Regional news websites | 14% | 4% |
| MSN News | 13% | 2% |
Overview of key findings
By Ike Picone
Vrije Universiteit, Brussels
The past year has been marked by a number of media titles changing hands, resulting in the major Belgian news and media groups consolidating their position at home and abroad. The catalyst was a decision by the Finnish media group Sanoma to run down its Belgian activities, after years of consecutive decline in magazine advertising revenues. Two well-established but struggling Dutch-language magazines Humo and Story were sold to De Persgroep, which saw the group acquiring its main competitors in this segment.
At the same time, Belgian media groups De Persgroep and Mediahuis directed their gaze at the Netherlands, with the former buying Dutch regional media group Wegener in 2014 and the latter buying NRC Media in 2015. Meanwhile the Rossel group, which publishes Le Soir amongst other papers, focused its attention on France, where it acquired a 49.3% stake in free newspaper 20 Minutes.
These changes took place against the backdrop of a continuing decline in newspaper and magazine readership. All newspapers in Belgium sold fewer copies than the year before, though some were able to report rises in total readership, when factoring in digital editions. Dutch-language titles Het Belang van Limburg, (+0.7%), De Morgen (+2.7%), De Tijd (+2.1%) and Gazet van Antwerpen (+0.1%) grew slightly. De Standaard (-0.3%), Het Nieuwsblad (-1.3%) and Het Laatste Nieuws (-1.9%) lost readers, even if the latter two remain the top online news brands.
The decline has been steeper amongst French-language newspaper groups, where only financial newspaper L'Echo (+0.7%) grew readership and La Dernière Heure (-8.7%) and Le Soir (-5.2%) are amongst the heavy losers. 2 and has also now launched a French-language version of the site. Newsmonkey offers a mix of free news aimed at a younger audience and regularly experiments by offering content through Periscope, Snapchat, and WhatsApp.
Paying for news
Belgian news brands use various strategies to charge for online content including metered paywalls, premium content subscriptions and syndication.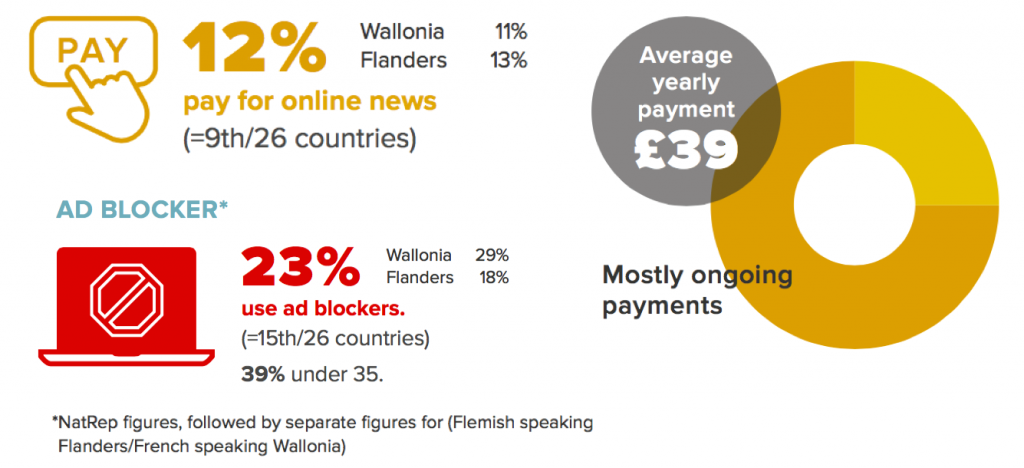 Trust
News brands enjoy high levels of trust in Belgium, which might be due to a general lack of explicitly partisan media, no recent scandals involving the press and well-functioning self-regulation through the Council of Journalism. There is, however, a remarkable difference in trust levels between Flanders and Wallonia, with much higher levels of trust in Flemish speaking areas.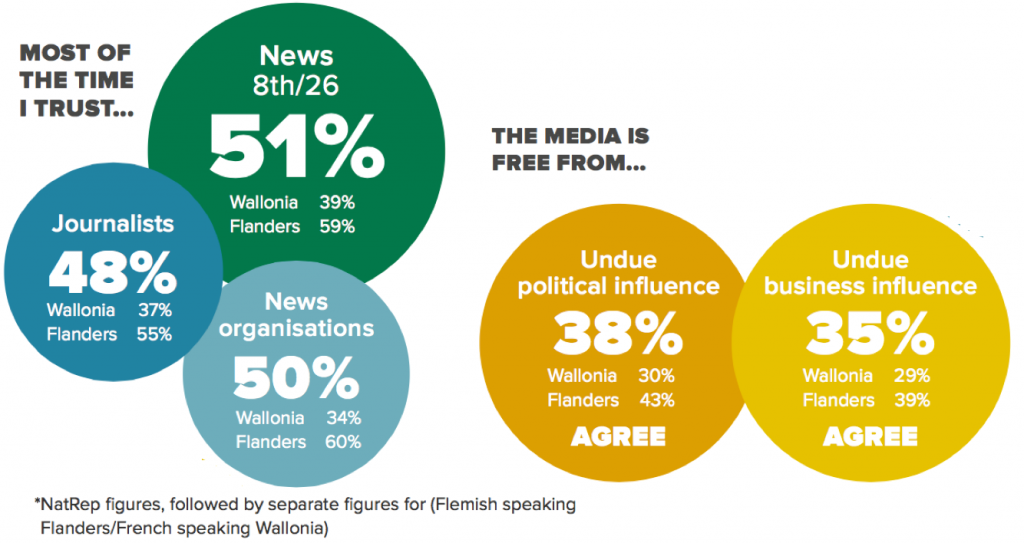 Scroll data area to see more
TOP SOCIAL NETWORKS*
| RANK | NETWORK | ALL | U35s |
| --- | --- | --- | --- |
| 1 | Facebook | 42% | (41%/43%) |
| 2 | YouTube | 15% | (11%/21%) |
| 3 | Google+ | 4% | (4%/6%) |
| 4 | Twitter | 4% | (3%/5%) |
| 5 | WhatsApp | 4% | (4%/4%) |
*used weekly for news. NatRep figures, followed by separate figures for (Flemish speaking Flanders/French speaking Wallonia)
The bilingual Brussels region accounts for the remaining 10%. ↩
https://www.cim.be/nl/pers/echtverklaring-resultaten-tot-2016 The historically strong orientation of the public to French media brands might offer an explanation for this difference.

Against this background it is not surprising that publishers have been looking at consolidation and cost-cutting, raising fresh concerns about job losses, media pluralism, and editorial independence. The Mediahuis purchase of NRC Media comes only one year after the group emerged from the merger of Concentra and Corelio, which saw one in five jobs lost. Sanoma's exit has resulted in 65 lay-offs while De Persgroep has started to actively exchange news articles between its Dutch and Flemish titles. Recently, it launched Topics, a news app that offers subscribers a Spotify-style all-you-can-read offering of articles coming from all its Dutch and Flemish newspapers.

The economic climate has also impacted on Dutch- and French-language public broadcasters VRT and RTBF, both of which face severe budget cuts in the coming years. VRT still holds a strong position in the Flemish offline news market, but has struggled to translate this into digital readership. Following VRT's renegotiation of its agreement with the Flemish government, commercial media groups have been stepping up pressure on VRT to limit its online activities around news. The new management agreement requires VRT to focus on the digital development of its existing audio-visual offering, rather than expanding into new areas. RTBF is subject to similar restrictions after a complaint by the newspaper publishers to the European Commission.

Belgium, being a small market – itself made up of two smaller regional markets – with plenty of news titles, is still short of successful digital-born media brands. Even so, Dutch-language BuzzFeed-like news site Newsmonkey was launched in early 2014 by former print journalists. It ended 2015 with a record of 1.9m unique monthly visitors (6% in Flanders) [47. https://newsmonkey.be/waarom-newsmonkey-vandaag-begint-met-een-franstalige-versie/ ↩